Visual Novel Interaktif Cerita Fabel Kelinci Dan Kura-Kura Pada Smartphone Berbasis Android Dengan Memanfaatkan Framework Fungus
Muhammad Irfan Serfia

Program Studi Teknik Informatika, Institut Informatika Indonesia Surabaya

Timothy John Pattiasina

Program Studi Sistem Informasi, Institut Informatika Indonesia Surabaya

Edwin Meinardi Trianto

Program Studi Manajemen Informatika, Institut Informatika Indonesia Surabaya
Keywords:
Cerita Fabel, Framework Fungus, Usability Testing, Visual Novel Interaktif, White Box Testing
Abstract
Ilmu pengetahuan dan teknologi berkembang dengan pesat, dimana media pembelajaran dengan menggunakan buku mulai ditinggalkan dan beralih menggunakan bentuk digital. Untuk itu, dalam Tugas Akhir ini dirancang dan dibuat aplikasi berjudul "Vino: Kelinci Dan Kura-Kura" yang bertujuan untuk menarik minat baca anak usia 4 sampai 7 tahun. Aplikasi visual novel interaktif ini mengangkat tema cerita fabel yang dikemas dalam bentuk interaktif pada smartphone berbasis Android. Aplikasi ini dikembangkan dengan Unity 3D yang memanfaatkan Framework Fungus. Beberapa fitur dalam aplikasi ini adalah fitur touch dan drag yang membuat aplikasi menjadi lebih menarik untuk dimainkan. Selain itu, terdapat interaksi dalam setiap scene yang digunakan pengguna untuk menentukan alur cerita. Berdasarkan hasil pengujian white box testing menggunakan metode basis path, aplikasi berhasil berjalan dengan baik. Selanjutnya dilakukan uji coba usability testing menggunakan metode problem discovery. Dari hasil uji coba tersebut, aplikasi "Vino: Kelinci Dan Kura-Kura" dapat menarik minat baca anak usia 4 sampai 7 tahun. Hal ini dapat dibuktikan dari 10 responden yang memainkan aplikasi berulang kali untuk mencari tahu 3 jalan cerita yang berbeda, yaitu normal ending, bad ending, dan perfect ending.
References
Azhar, A. (2013). Media Pembelajaran. Jakarta: PT Rineka Cipta.
Comobe Corp Designer. (2015). 150 Teknik Profesional. Jakarta: PT Elex Media Komputer.
Ernes, S. (2015). 50 Cerita Fabel Dunia: Yunani-Spanyol-Australia-Afrika-Indonesia. Jakarta: AnakKita.
Hart, J. (2013). The Art of the Storyboard: A Filmakers's Introduction. USA: Taylor & Francis.
Okita, A. (2015). Learning C# Programming With Unity 3D. New York: CRC Press.
Smith, M. (2015). Unity 5.x Cookbook. UK: Packt Publishing Ltd.
DaGraça, M. (2017). Learning C# 7 By Developing Games With Unity 2017: Learn C# Programming By Building Fun And Interactive Games With Unity. UK: Packt Publishing Ltd.
Wahana Komputer. (2014). Membuat Aplikasi Android untuk Tablet & Handphone. Jakarta: PT Elex Media Komputindo.
Shalahuddin, M. & Rosa, A.S. (2015). Rekayasa Perangkat Lunak Terstruktur dan Berorientasi Objek. Bandung: Informatika.
Meena, K & Sivakumar, R. (2015). Human Computer Interaction. Delhi: PHI Learning Pvt. Ltd.
Wibawanto, W. (2017). Desain dan Pemrograman Multimedia Pembelajaran Interaktif. Jember: Cerdas Ulet Kreatif Publisher.
Santoso, S. (2018). Menguasai Statistik Dengan SPSS 25. Jakarta: PT Elex Media Komputindo.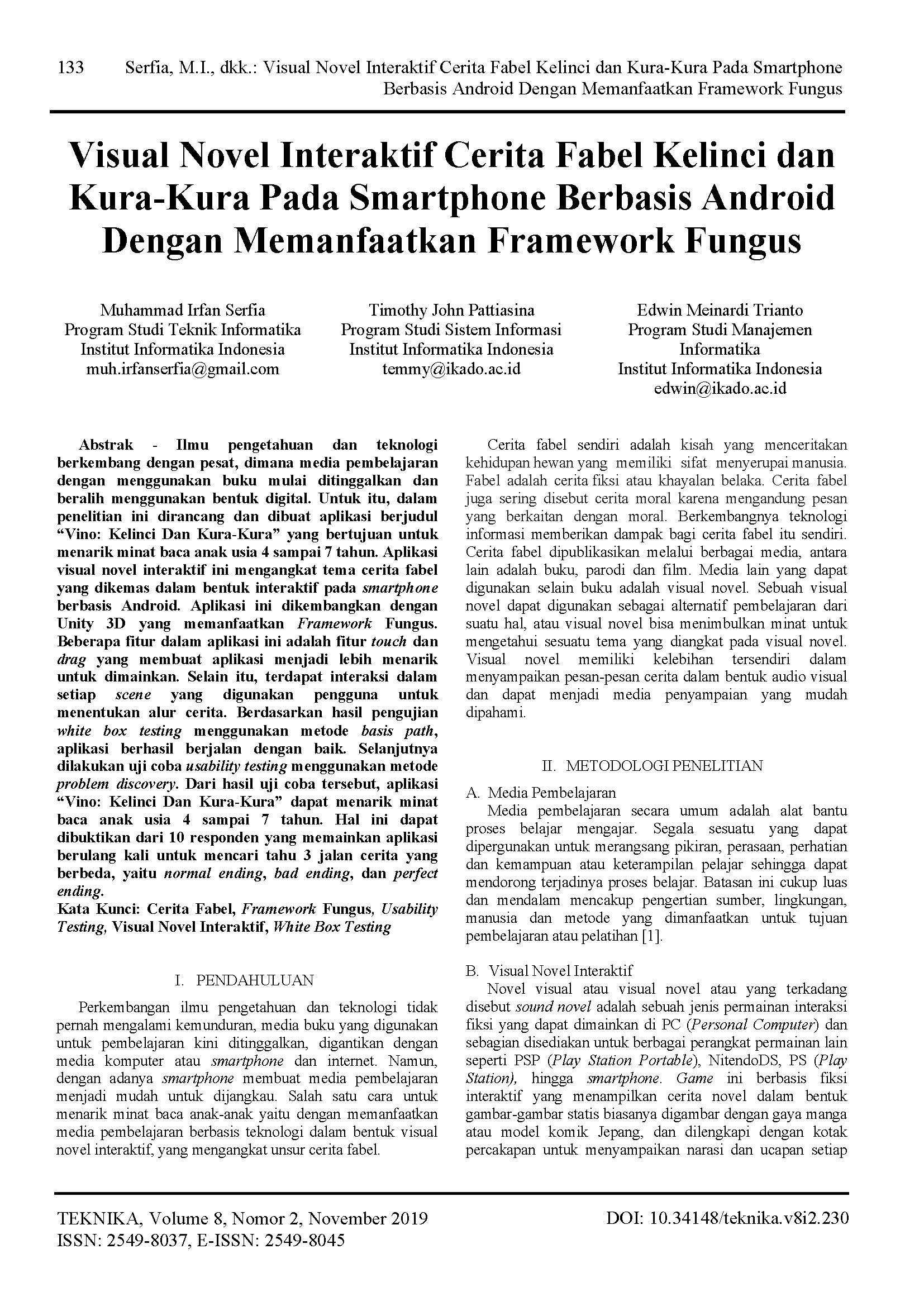 Copyright (c) 2019 Muhammad Irfan Serfia, Timothy John Pattiasina, Edwin Meinardi Trianto
This work is licensed under a Creative Commons Attribution-NonCommercial 4.0 International License.