PENGENALAN TULISAN TANGAN SECARA ONLINE DENGAN MENGGUNAKAN METODE DOMINANT POINT DALAM SUATU BENTUK
Budiya Surya Putra

Eva Haryanty
Keywords:
Duminant Points
Abstract
Dengan perkembangan digital tablets dan microcomputers, pengenalan tulisan tangan secara online telah menjadi suatu topik yang sangat terkenal dalam dunia penelitian sejak tahun 1960-an. Satu alasan mengapa topik ini sangat terkenal adalah bahwa pengenalan tulisan tangan secara online menjanjikan kemudahan dalam memasukkan suatu dara ke dalam komputer dengan cara yang lebih dinamis, yaitu dengan cara menggunakan stylus pen bukan hanya sekedar menggunakan keyboard seperti yang kita lakukan selama ini. Penelitian ini bertujuan untuk mempelajari teknik pengenalan tulisan tangan menggunakan metode dominant points, dan mengetahui seberapa baiknya komputer dalam mengenali suatu tulisan tangan dari user. Dengan menggunakan pendekatan elastic matching, sistem ini dapat mentoleransi variasi lokal dan bentuk yang rusak seperti polayang melebar dan garis yang keluar dari bentuknya. Dari uji coba yang telah dilakukan, telah disimpulkan bahwa kapan pun seseorang menlis sebuah karakter yang sesuai dengan tulisan template di dalam referensi, maka input tulisan tersebut akan selalu dikenal dengan baik.
Downloads
Download data is not yet available.
References
Tappert C.C, Y. Suen Ching, Wakahara T., The State of the Art in On-Line Handwriting Recognition, August 1990

Li, X., Yeung D.Y., On-Line handwritten Alphanumeric Character Recoginition Using Dominant Points in Strokes, Hongkong University of Science and Technology, Department of Computer Science, August 23, 1996.

Leung, H. W. H., Reprensations, Feature Extraction, Matching and Relevancce Feedback For Sketch Retreal, Carnegie Mellon University, Electrical and Computer Engineering, June 2003.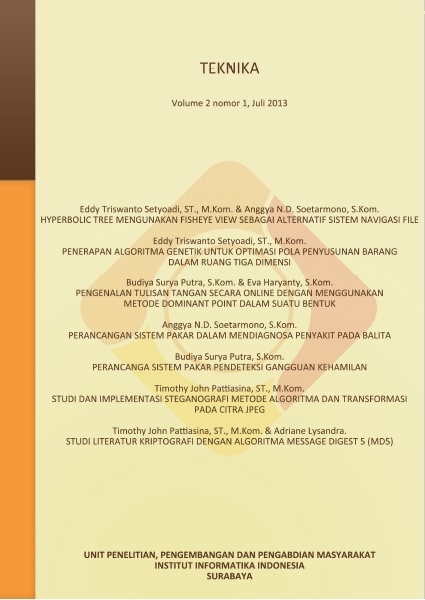 How to Cite
Putra, B. S., & Haryanty, E. (2013). PENGENALAN TULISAN TANGAN SECARA ONLINE DENGAN MENGGUNAKAN METODE DOMINANT POINT DALAM SUATU BENTUK. Teknika, 2(1), 20-27. https://doi.org/10.34148/teknika.v2i1.10