PERANCANGAN SISTEM PAKAR DALAM MENDIAGNOSA PENYAKIT PADA BALITA
Keywords:
Balita, Penyakit, Sistem Pakar
Abstract
Banyaknya kejadian yang mengakibatkan kematian terhadap balita (anak yang baru berumur kurang dari 1 tahun) pada akhir abab XIX di Amerika Serikat, dikarenakan terinfeksi oleh penyakit. Perkembangan sistem pakar dalam menangani segala bidang ilmu telah berkembang secara pesat, dimana sistem pakar tersebut telah dapat menirukan penalaran seorang pakar dalam menguasai bidang ilmu tersebut. Dengan menerapkan sistem pakar dalam mengetahui gejala penyakit yang diderita oleh kebanyakan balita, akan sangat membantu dalam mengurangi jumlah kematian pada balita.
Downloads
Download data is not yet available.
References
A.J. Gonzales and D.D. Dankel, The Engineering of Knowledge-Based System : Theory and Practice/Book. 1993.

Dologite, D, G., Developing Knowledge-Based Systems Using VP-Expert, City university of New York Bernard M. Baruch College.

Giarattano, j. & Riey, G., Expert System Principles and programming, PWS Publishing Company, Boston. 1994.

Irfan inteligensia_mesin.pdf

Richard, E. & Victor C., Ilmu Kesehutan Anak, Jakarta.1988.

Turban, E., Decicion Support System and Expert System, Prentice Hall International Inc., USA. 1995.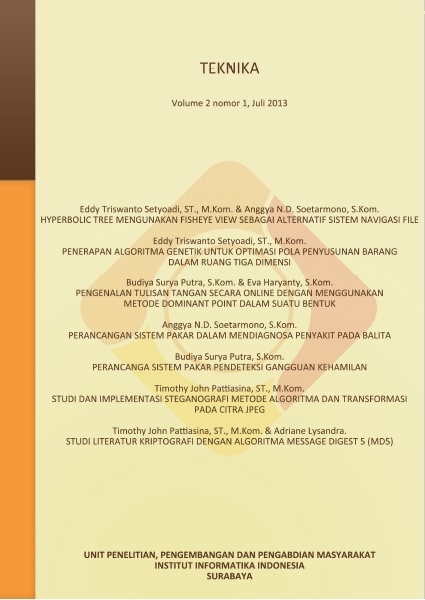 How to Cite
Soetarmono, A. N. (2013). PERANCANGAN SISTEM PAKAR DALAM MENDIAGNOSA PENYAKIT PADA BALITA. Teknika, 2(1), 28-39. https://doi.org/10.34148/teknika.v2i1.11