Autokorelasi Spasial Untuk Analisis Pola Pengawasan Kawasan Lindung Di Kota Ambon Maluku
Anna Simatauw

Magister Sistem Informasi, Universitas Kristen Satya Wacana

Eko Sediyono

Magister Sistem Informasi, Universitas Kristen Satya Wacana

Sri Yulianto Joko Prasetyo

Magister Sistem Informasi, Universitas Kristen Satya Wacana
Keywords:
Autokorelasi Spasial, Global Moran's I, Local Indicator of Spatial Association (LISA), Peramalan
Abstract
Kota Ambon memiliki kawasan lindung yang ditetapkan untuk melindungi kelestarian lingkungan dan sangat sensitif terhadap dampak negatif untuk memenuhi kebutuhan manusia dalam penggunaan lahan. Penelitian ini bertujuan untuk menganalisis pola pengawasan kawasan lindung dalam bentuk data perubahan penutupan lahan pada 50 wilayah di Kota Ambon dengan menggunakan uji autokorelasi indeks Global Moran's I dan Local Indicator of Spatial Association (LISA), selanjutnya melakukan peramalan pola spasial pada data perubahan penutupan lahan di tahun 2020. Penelitian ini menunjukkan terdapat autokorelasi spasial dari perubahan penutupan lahan untuk kawasan lindung tetapi korelasi melemah dengan nilai indeks Moran's I berubah dari 0,283362665 menjadi -0,042523054. Peramalan tahun 2020 menunjukkan terdapat autokorelasi spasial pada tingkat perubahan penutupan lahan yang berkorelasi negatif dengan nilai indeks Moran's I -0,011095491.
Downloads
Download data is not yet available.
References
Pemerintah Republik Indonesia. (2007). Undang-Undang No. 26 Tahun 2007 tentang Penataan Ruang.
Das, M. & Gosh, S.K. (2016). A Cost-Efficient Approach for Measuring Moran's Index of Spatial Autocorrelation in Geostationary Satellite Data. International Geoscience and Remote Sensing Symposium (IGARSS). Beijing.
Ma, J., Yang, W., Pan, Y. & Xu, J. (2018). Analysis of Land Use Patterns and Human Causes Based on Spatial Autocorrelation. 26th International Conference of Geoinformatics. Kunming.
Hsu, W.L., Wang, Y.C. & Lin, K.F. (2016). The Path Of Crowd Dominated-Motion Detection Based On Spatial Autocorrelation. International Conference on Machine Learning and Cybernetics (ICMLC).
Lede, N., Weimei, L., Meiying, J. & Na, L. (2018). Land Use Degree and Spatial Autocorrelation Analysis in Kunming City Based on Big Data. International Conference on Intelligent Transportation, Big Data & Smart City (ICITBS), pp. 97-100. Xiamen, China.
Yan, M., Tong, Q., Wang, R., Luo, C., Land, W., Gao, Y. & Pan, Y. (2016). Outliers Detection of Cultivated Land Quality Grade Results based on Spatial Autocorrelation. Fifth International Conference on Agro-Geoinformatics (Agro-Geoinformatics). Tianjin.
Chun, Y. & Griffith, D.A. (2013). Spatial Statics & Geostatistics. London: SAGE Publications Ltd.
Adriana, D.P.Y. & Loekito, L.H. (2018). Sistem Informasi Peramalan Persediaan Barang Menggunakan Metode Weighted Moving Average. Jurnal Teknologi Informasi dan Komputer, Vol. 4, No. 1, pp. 71-79.
Katalog Badan Pusat Statistik Kota Ambon. (2017). Kota Ambon dalam Angka.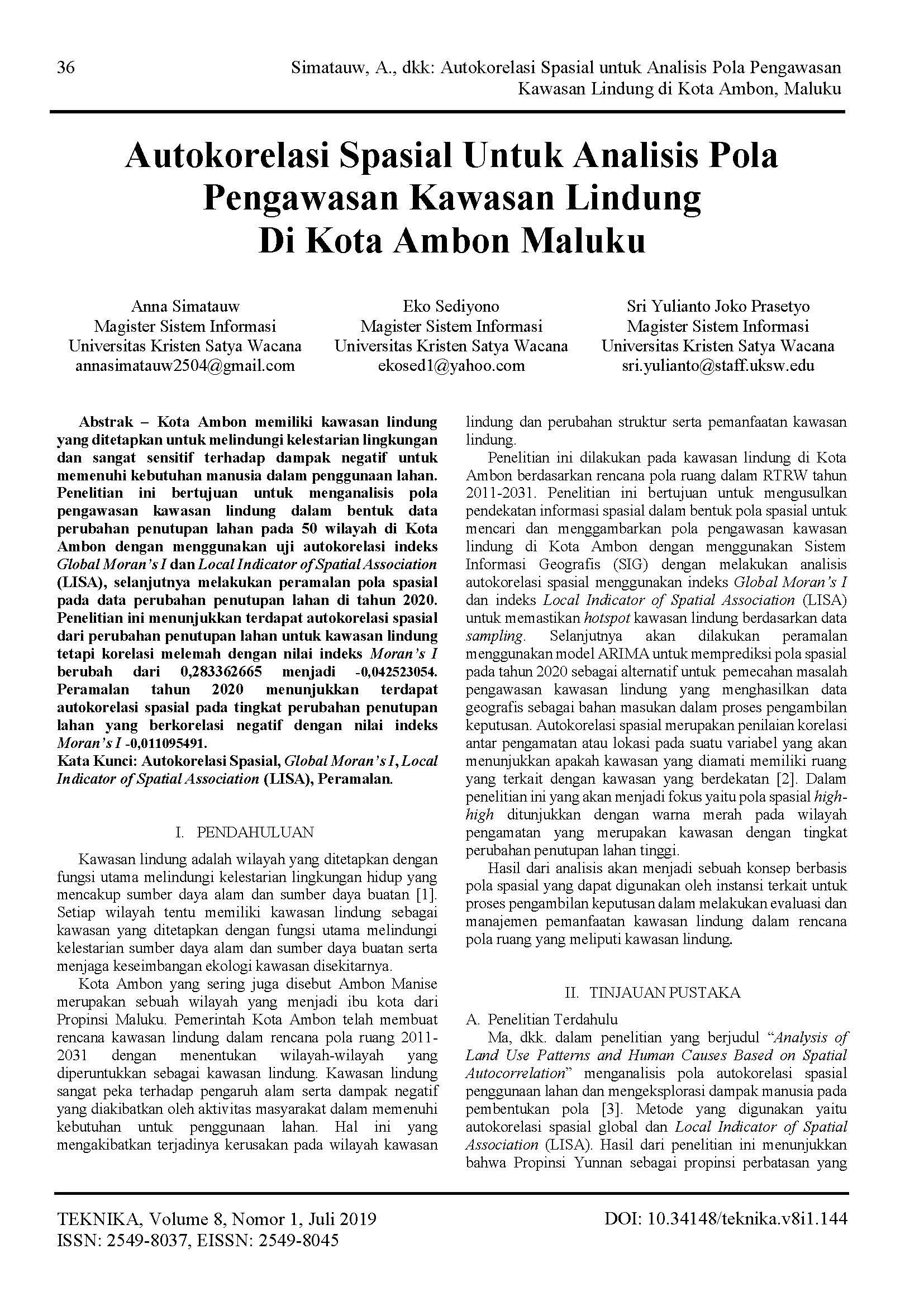 How to Cite
Simatauw, A., Sediyono, E., & Prasetyo, S. Y. J. (2019). Autokorelasi Spasial Untuk Analisis Pola Pengawasan Kawasan Lindung Di Kota Ambon Maluku. Teknika, 8(1), 36-43. https://doi.org/10.34148/teknika.v8i1.144
Copyright (c) 2019 Anna Simatauw, Eko Sediyono, Sri Yulianto Joko Prasetyo
This work is licensed under a Creative Commons Attribution-ShareAlike 4.0 International License.