Sistem Presensi Online Menggunakan Arsitektur Pengembangan Perangkat Lunak Model-View-Viewmodel
Adha Setiawan Wiyana

Program Studi Sistem Informasi, Institut Teknologi Kalimantan, Balikpapan, Kalimantan Timur

M. Ihsan Alfani Putera

Program Studi Sistem Informasi, Institut Teknologi Kalimantan, Balikpapan, Kalimantan Timur

Sri Rahayu Natasia

Program Studi Sistem Informasi, Institut Teknologi Kalimantan, Balikpapan, Kalimantan Timur
Keywords:
Android, MVVM, PXP, Sistem Presensi
Abstract
PT. Lintasmaya Network Samarinda adalah perusahaan yang bergerak di bidang jasa dengan memberikan layanan IT Support kepada perusahaan lain. Sebagai perusahaan yang bergerak di bidang jasa, PT. Lintasmaya Network Samarinda perlu memastikan untuk dapat memberikan layanan terbaik kepada konsumen dengan memperhatikan kinerja karyawan. Agar hal tersebut dapat tercapai, maka solusi yang dipilih oleh PT. Lintamaya Network Samarinda adalah membangun sistem presensi berbasis aplikasi mobile. Hanya saja karena PT. Lintasmaya Network Samarinda tidak memiliki kemampuan dan pengalaman dalam mengembangkan sebuah aplikasi mobile, sistem presensi tersebut tidak dapat berjalan dengan baik. Berangkat dari masalah tersebut, maka diadakan penelitian pengembangan sistem presensi berbasis aplikasi mobile dengan menggunakan metode pengembangan perangkat lunak Personal Extreme Programming (PXP) dan arsitektur Model-View-Viewodel (MVVM). Metode pengembangan perangkat lunak PXP terdiri dari tujuh proses yaitu requirement, planning, iteration initialization, design, implementation, system testing, dan retrospective. Sedangkan aristektur MVVM adalah penulisan kode yang dibagi menjadi tiga bagian terdiri dari view, viewmodel, dan model. Adapun hal lain yang menjadi perhatian dalam penelitian ini adalah penerapan IMEI untuk mengenali perangkat, GPS untuk mendapatkan lokasi, dan JWT Authentication untuk keamanan fitur. Melalui penerapan tersebut, sistem dapat memberikan hal positif seperti data yang akurat dan penggunaan fitur yang terbatas hanya untuk pihak perusahaan.
Downloads
Download data is not yet available.
References
Eka, S.V. (2018). Strategi Indonesia Menghadapi Industri 4.0. Info Singkat, Vol. X(09), pp. 19-24.
Setiawan, P.R. (2020). Aplikasi Absensi Online Berbasis Android. IT Journal Research and Development, Vol.5(1), pp. 63-71.
Putera, A.P. (2020). Rancang Bangun Aplikasi Absensi Online Berbasis Android Menggunakan Metode Deep Learning Pada PT. Pelabuhan Indonesia III (Persero) [Skripsi]. Universitas 17 Agustus 1945 Surabaya.
Febriandirza, A. (2020). Perancangan Aplikasi Absensi Online Dengan Menggunakan Bahasa Pemrograman Kotlin. Jurnal Pseudocode, Vol. 7(2), pp. 123-133.
Subiantoro & Sardiarinto. (2018). Perancangan Sistem Absensi Pegawai Berbasis Web. Jurnal Swabumi, Vol. 6(2), pp. 184-189.
Reza. (2020). Sistem Absensi. (A. Setiawan, Interviewer).
Marthasari, G., Suharso, W. & Ardiyansyah, F. (2018). Personal Extreme Programming with MoSCoW Prioritization for Developing Library Information System. Proceeding of the Electrical Engineering, Computer Science, and Informatics, Vol. 5(51).
Syeikh, W. & Syeikh, N. (2019). A Model-View-Viewmodel (MVVM) Application Framework For Hearing Impairment Diagnosis. The Journal of Open Source Software. DOI: 10.21105/joss.02016.
Sai, P. (2018). Multi-Factor Authentication Using IMEI Encrypted Color QR Code. International Journal of Pure and Mathematics, Vol. 119(15), pp. 1713-1719.
Pribadi, J.A. & Setiyawati, N. (2021). AbsenLoc: Aplikasi Absensi Mobile Berbasis Lokasi. Jurnal Sistem dan Teknologi Informasi, Vol. 9(1), pp. 33-40. DOI: 10.26418/justin.v9i1.41103.
Gunawan, R. & Rahmatulloh, A. (2019). JSON Web Token (JWT) Untuk Authentication Pada Interoperabilitas Arsitektur Berbasis RESTful Web Service. Jurnal Edukasi dan Penelitian Informatika, Vol. 5(1), pp. 74-79.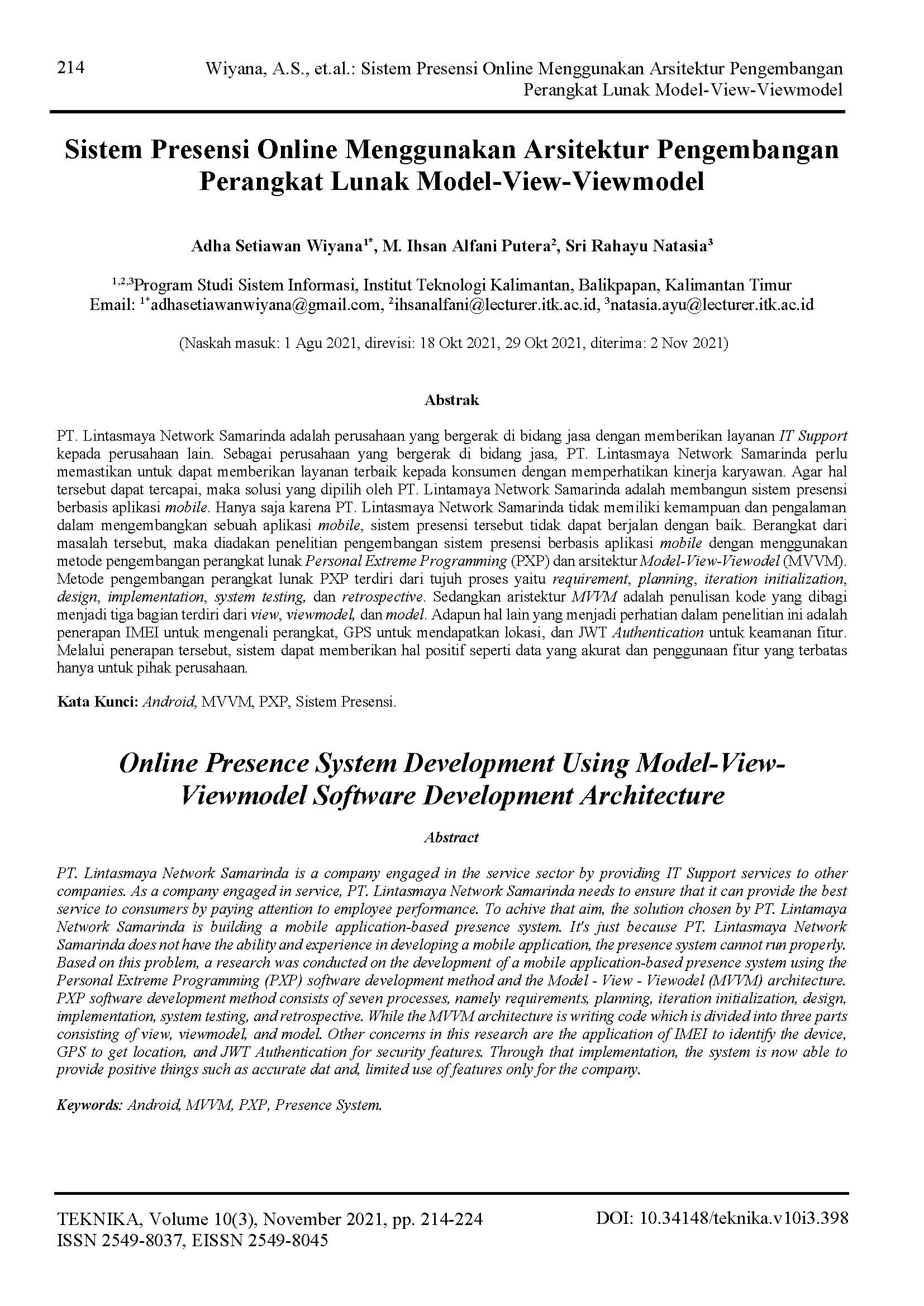 How to Cite
Wiyana, A. S., Putera, M. I. A., & Natasia, S. R. (2021). Sistem Presensi Online Menggunakan Arsitektur Pengembangan Perangkat Lunak Model-View-Viewmodel. Teknika, 10(3), 214-224. https://doi.org/10.34148/teknika.v10i3.398
Copyright (c) 2021 Adha Setiawan Wiyana, M. Ihsan Alfani Putera, Sri Rahayu Natasia
This work is licensed under a Creative Commons Attribution-ShareAlike 4.0 International License.