Implementasi VPN Pada VPS Server Menggunakan OpenVPN dan Raspberry Pi
Taufik Rahman

Program Studi Teknologi Komputer, Universitas Bina Sarana Informatika, Jakarta Pusat, DKI Jakarta

http://orcid.org/0000-0001-8802-1866

Giovanni Maria Vianney Tobia Mariatmojo

Program Studi Teknologi Komputer, Universitas Bina Sarana Informatika, Jakarta Pusat, DKI Jakarta

Hafis Nurdin

Program Studi Sistem Informasi, Universitas Nusa Mandiri. Jakarta Timur, DKI Jakarta

Herman Kuswanto

Program Studi Teknik Informatika, Universitas Nusa Mandiri, Jakarta Timur, DKI Jakarta
Keywords:
VPN, VPS, OpenVPN, RaspberryPi, WFH
Abstract
Komunikasi jaringan internet butuh keamanan, kemudahan, dan kecepatan transfer data yang baik. Hal ini harus diperhatikan oleh setiap pengguna dalam melakukan kegiatan di dunia maya atau internet, sehingga kerahasiaan informasi bisa terjaga dengan baik dan kemudahan, kecepatan pertukaran data bisa di implementasikan sehingga dapat menjadi suatu nilai lebih. VPN dapat terjadi antara dua PC atau bisa juga antara dua atau lebih jaringan yang berbeda. VPN dapat dibentuk dengan menggunakan teknologi tunneling dan encryption. Server OpenVPN menghasilkan profil jaringan terenkripsi, kemudian semua pengguna dapat membentuk jaringan VPN dan mereka dapat menggunakan layanan organisasi seolah-olah mereka secara geografis berada di tempat yang sama, konfigurasi ini juga memungkinkan penggunaan layanan atau aplikasi eksternal apa pun tanpa memengaruhi keamanan organisasi, VPN dapat berjalan pada IPv6 dan IPv4, dengan kelebihan yang banyak OpenVPN melintasi NAT (Network Address Translation). Jaringan VPN ini dibuat untuk memudahkan pekerja yang sedang melaksanakan aktivitas WFH (Work From Home) VPN sebuah koneksi virtual yang bersifat private dan tidak semua orang bisa mengaksesnya. Implementasi VPN dapat mempermudah komunikasi data jarak jauh tanpa khawatir ada tabrakan data, karena dengan menggunakan jaringan virtual ini dapat terhubung secara bersamaan. Dengan VPN, pengguna mempunyai keamanan data yang lebih dibandingkan dengan menggunakan jaringan lokal biasa. Ketika pengguna terhubung ke jaringan VPN maka akan mempunyai IP yang berbeda dengan IP Physical dibuktikan dengan tool tracert terlihat IP dan hoop. Raspberry Pi berfungsi untuk membuat sertifikat VPN client, karena fungsi tersebut tidak digabungkan ke dalam VPS Server karena masalah keamanan jaringan.
Downloads
Download data is not yet available.
References
C. A. Romero Goyzueta, J. E. Cruz De La Cruz, and C. D. Cahuana, "VPNoT: End to End Encrypted Tunnel Based on OpenVPN and Raspberry Pi for IoT Security," in 2021 International Conference on Electrical, Computer, Communications and Mechatronics Engineering (ICECCME), 2021, pp. 1–5.
J. E. C. de la Cruz, C. A. R. Goyzueta, and C. D. Cahuana, "OpenVProxy: Low Cost Squid Proxy Based Teleworking Environment with OpenVPN Encrypted Tunnels to Provide Confidentiality, Integrity and Availability," 2020, pp. 20–23.
N. Kumar, S. Sunil, K. Rawani, H. Shankar, P. Tonde, and B. Kishor, "VPN IS SECURE THEN OTHER PROXIES FOR INTERNET FILTARATION," Int. Educ. Res. J. [IERJ], vol. 5, no. 2, pp. 15–17, 2019.
M. N. Ab Wahab, A. Nazir, A. T. Z. Ren, M. H. M. Noor, M. F. Akbar, and A. S. A. Mohamed, "Efficientnet-Lite and Hybrid CNN-KNN Implementation for Facial Expression Recognition on Raspberry Pi," IEEE Access, vol. 9, pp. 134065–134080, 2021.
A. M. Abd-Elrahim, A. Abu-Assal, A. A. A. A. Mohammad, A. I. M. Al-Imam, A. H. A. Hassan, and M. A. M. Muhi-Aldeen, "Design and Implementation of Raspberry Pi based Cell phone," Proc. 2020 Int. Conf. Comput. Control. Electr. Electron. Eng. ICCCEEE 2020, 2021.
F. P. Sabrina and B. B. Murti, "Implementasi Elastic Stack Pada Sistem Pendeteksi Tingkat Stres Menggunakan Sensor GSR dan DS18B20 Berbasis Raspberry Pi," Teknika, vol. 11, no. 1, pp. 38–44, 2022.
Haryono, Khairul Anam, and Azmi Saleh, "Autentikasi Daun Herbal Menggunakan Convolutional Neural Network dan Raspberry Pi," J. Nas. Tek. Elektro dan Teknol. Inf., vol. 9, no. 3, pp. 278–286, 2020.
T. Rahman, E. Sulistianto, A. Sudibyo, and B. Wijonarko, "Per Connection Classifier Load Balancing dan Failover MikroTik pada Dua Line Internet," pp. 195–209.
X. Ma et al., "One Host with so Many IPs! On the Security Implications of Dynamic Virtual Private Servers," IEEE Commun. Mag., vol. 59, no. 2, pp. 64–69, 2021.
L. A. Daniel, E. Poll, and J. De Ruiter, "Inferring OpenVPN State Machines Using Protocol State Fuzzing," Proc. - 3rd IEEE Eur. Symp. Secur. Priv. Work. EURO S PW 2018, pp. 11–19, 2018.
A. Ometov et al., "Dynamic Trust Associations over Socially-Aware D2D Technology: A Practical Implementation Perspective," IEEE Access, vol. 4, pp. 7692–7702, 2016.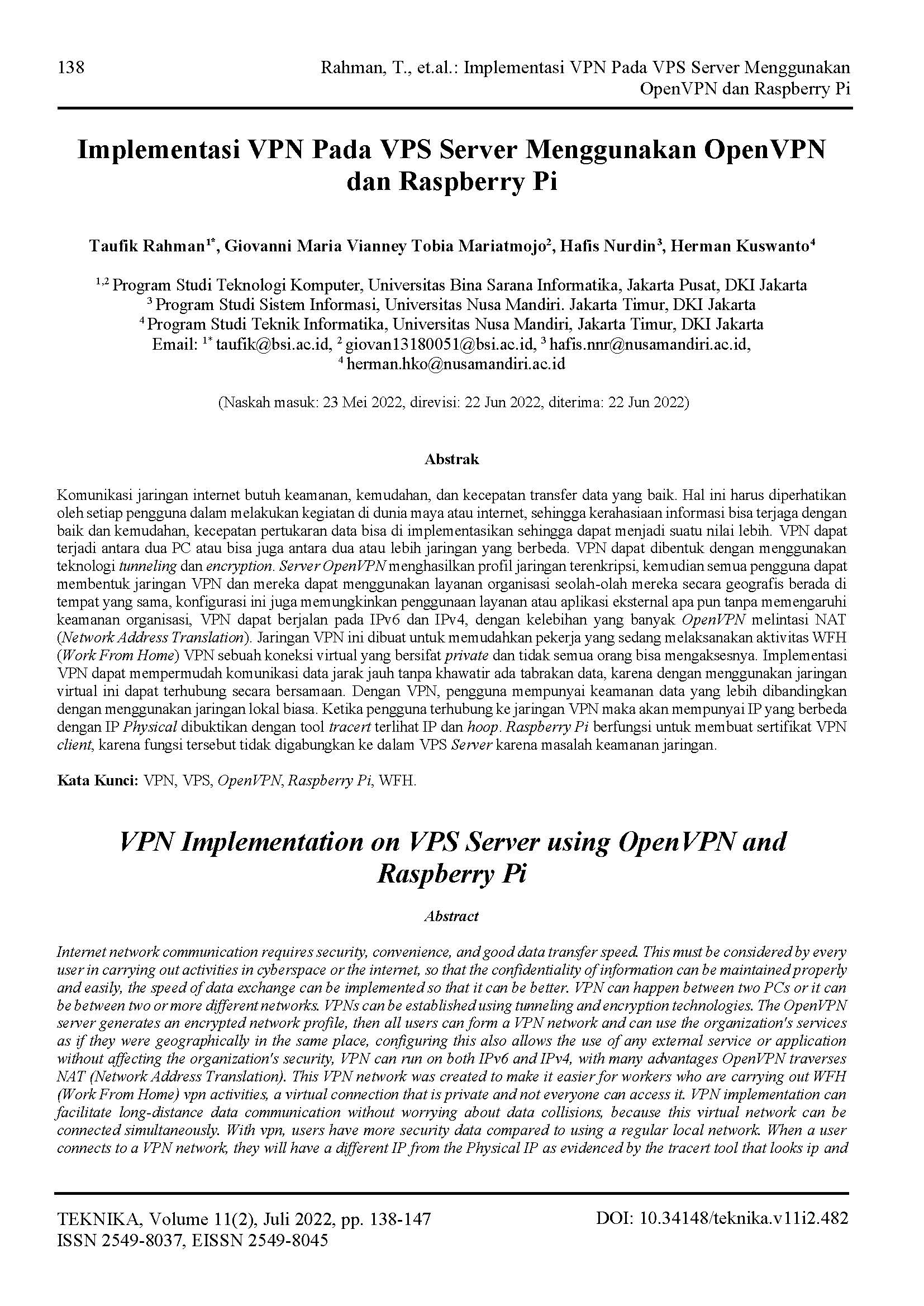 How to Cite
Rahman, T., Mariatmojo, G. M. V. T., Nurdin, H., & Kuswanto, H. (2022). Implementasi VPN Pada VPS Server Menggunakan OpenVPN dan Raspberry Pi. Teknika, 11(2), 138-147. https://doi.org/10.34148/teknika.v11i2.482
Copyright (c) 2022 Teknika
This work is licensed under a Creative Commons Attribution-ShareAlike 4.0 International License.