Prototipe Layanan Video on Demand (VoD) Pada Jaringan OpenFlow
Eki Ahmad Zaki Hamidi

Program Studi Teknik Elektro, UIN Sunan Gunung Djati Bandung

Nanang Ismail

Program Studi Teknik Elektro, UIN Sunan Gunung Djati Bandung

Rizka Jalaludin

Program Studi Teknik Elektro, UIN Sunan Gunung Djati Bandung
Keywords:
MOS, OpenFlow, OpenvSwitch, QoS, Software-Defined Networking, Video On Demand
Abstract
Sistem distribusi Video on Demand (VoD) saat ini umumnya masih menggunakan sistem transmisi konvensional. Perkembangan jaringan yang makin kompleks menuntut manajemen yang semakin handal. Software-Defined Networking (SDN) hadir untuk mengatasi kompleksitas sistem dengan memisahkan control plane dan data plane. Salah satu protokol SDN adalah OpenFlow. Makalah ini membahas tentang simulasi layanan VoD melalui jaringan OpenFlow. Realisasi OpenFlow menggunakan OpenvSwitch. Sistem disimulasikan dengan 1 PC server, 1 PC untuk switch dengan OpenvSwitch, dan 3 PC client. Hasil simulasi menunjukan QoS VoD melalui jaringan OpenFlow sudah memenuhi standar ITU-T G.1010 dengan delay sebesar 3,31 ms, jitter sebesar 0 ms, packet loss sebesar 0%, dan throughput sebesar 2,71 Mbit/s. Penilaian Mean Opinion Score (MOS) juga sudah memenuhi standar ITU-T P.800 dengan nilai 3417,06 dan termasuk kategori baik.
Downloads
Download data is not yet available.
References
Lestariningati, S.I., Zarman, W., & Perdana, D. (2011). Perancangan dan Implementasi Video On Demand Pada Jaringan Lokal. Majalah Ilmiah UNIKOM, Vol. 9, No. 1, pp. 11-20.
Simpson, W. & Greenfield, H. (2012). IPTV and Internet Video Expanding the Reach of Television. USA: National Association of Broadcasters, CRC Press.
W, HP, Susilawati, H. & Noviandono, R.K. (2013). Analisis Performansi VoIP (Voice over Internet Protocol) Pada Jaringan WiMax (Worldwide Interoperability for Microwave Access) di Wilayah Jakarta. Jakarta: Universitas Jendral Sudirman.
Muryanti, S.D.P. & Affandi, A. (2015). Rancang Bangun Sistem Keamanan Konten Video On Demand (VOD) Pada Internet Protocol Television (IPTV) Menggunakan Video Encryption Algorithm (VEA). Surabaya: Jurusan Teknik Elektro, ITS.
Marpaung, K.W., W, A.P & Ambarwati, R. (2011). Desain Video on Demand (VOD) Menggunakan High Speed Downlink Packet Access (HSDPA) di Wilayah Urban Kota Malang. Malang: Unibraw.
ITU-T. (2011). ITU-T Recommendation G.1010: End-User Multimedia QoS Categories. ITU-T.
Risdianto, A.C. (2012). Implementation and Analysis of Control and Forwarding Plane for Software Defined Network. Bandung: ITB.
Faruqi, N.A., Nurwadi, L., Ismail, N. & Maryanto, D. (2017). Simulasi Kinerja Berbagai Topologi Jaringan Berbasis Software-Defined Network (SDN). Seminar Nasional Teknik Elektro UIN Sunan Gunung Djati Bandung (SENTER 2017). Bandung.
Sardju, A.P. (2012). Implementasi IPTV (Internet Protocol Television) Berbasis Web Pada Jaringan Wireless. Makassar: Universitas Hasanudin.
Ismail, N. (2006). Sistem Keamanan pada IPTV (Internet Protocol Television). Bandung: Bidang Khusus Teknologi Informasi Sekolah Teknik Elektro dan Informatika Institut Teknologi Bandung.
McKeown, N. & De Boer, M. (2008). Performance Analysis of OpenFlow Hardware. USA: Standford University.
Stallings, W. (2013). Software-defined Networks and Openflow. The Internet Protocol Journal, Vol. 16, No. 1, pp. 2-14.
Limoncelli, T.A. (2012). Openflow: a radical new idea in networking. Queue, Vol. 10, No. 6, pp. 40.
Hamidi, E.A.Z. (2015) The Simulation of VLAN Using OpenFlow at Laboratory of Electrical Engineering. The 2015 International Conference on Electrical, Telecommunication and Computer Engineering. Medan.
Open Networking Fundation. (2012). Software-defined Networking: The New Norm for Networks. ONF White Paper, Vol. 2, pp. 2-6.
Wijaksa, D.S., Mardiati, R., Ismail, N. & Juhana, T. (2016). TestBed Open vSwitch Raspberry Pi Pada Skala Kecil. Seminar Nasional Teknik Elektro UIN Sunan Gunung Djati Bandung (SENTER 2016). Bandung.
Hakim, A. (2014). Implementasi Dan Analisis Kinerja Switch OpenFlow dan Switch Konvensional Pada Jaringan Komputer. Bogor: Institut Pertanian Bogor.
Effendi, M.R., Hamidi, E.A.Z & Saepulloh, A. (2017). Implementasi GRE Tunneling Menggunakan Open vSwitch Pada Jaringan Kampus. TELKA - Jurnal Telekomunikasi, Elektronika, Komputasi dan Kontrol, Vol. 3, No. 2, pp. 103-111.
ITU-T. (2014). Recommendation ITU-T G.107: The E-model: a Computational Model for Use in Transmission Planning. ITU-T.
ITU-T. (2013). Recommendation ITU-T P.800.2: Mean opinion score interpretation and reporting. ITU-T.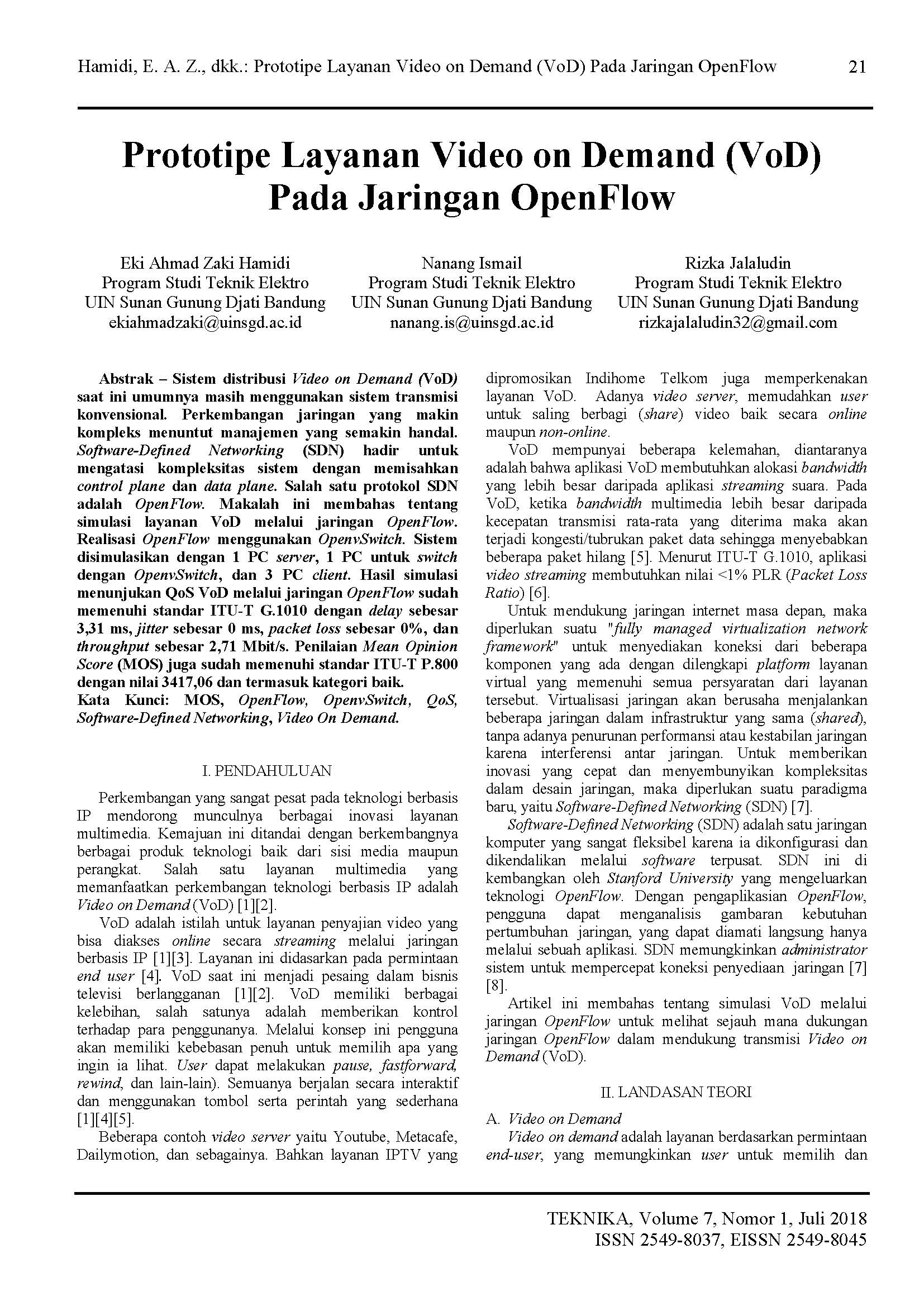 How to Cite
Hamidi, E. A. Z., Ismail, N., & Jalaludin, R. (2018). Prototipe Layanan Video on Demand (VoD) Pada Jaringan OpenFlow. Teknika, 7(1), 21-27. https://doi.org/10.34148/teknika.v7i1.70
Copyright (c) 2018 Eki Ahmad Zaki Hamidi, Nanang Ismail, Rizka Jalaludin
This work is licensed under a Creative Commons Attribution-ShareAlike 4.0 International License.