HYPERBOLIC TREE MENGUNAKAN FISHEYE VIEW SEBAGAI ALTERNATIF SISTEM NAVIGASI FILE
Eddy Triswanto Setyoadi

Anggya N.D. Soetarmono
Keywords:
Tree Diagram, Indented Layout
Abstract
Pada masa sekarang hampir semua aplikasi yang memiliki fitur navigasi menggunakan model tree diagram dengan indented layout, yaitu tree yang terekspansi ke kanan secara terus-menerus untuk menunjukkan hubungan antara file induk dengan file anak. Contoh yang paling mudah dan banyak dikenal orang adalah sistem explore folder pada Windows.
Downloads
Download data is not yet available.
References
Eklund, Peter, Nataliya Roberts, dan Steve Green. Ontorama, Browsing RDF Ontologies using a Hyperbolic-Style Browser. Australia : The University of Queensland, St Lucia QLD 4072.

Lamping, J. dan Ramana Rao. (1995). The Hyperbolic Browser : A Focus+Context Technique for Visualizing Large Hierarchies. Palo Alto : Xerox Palo Alto Reseach Center.

Pavlo, Andy (2006). Interactive, Tree Based Graph Visualization. E-book.

Storey, Margaret Anne D., F.David Fracchia, dan Hausi A. Müller. (1999). Customizing a Fisheye View Algorithm to Preserve the Mental Map. E-book.

Storey, Margaret Anne D., F.David Fracchia, Hausi A. Müller, dan Kenny Wong. (1999). On Integrating Vizualization Technique for Effective Software Exploration. E-book.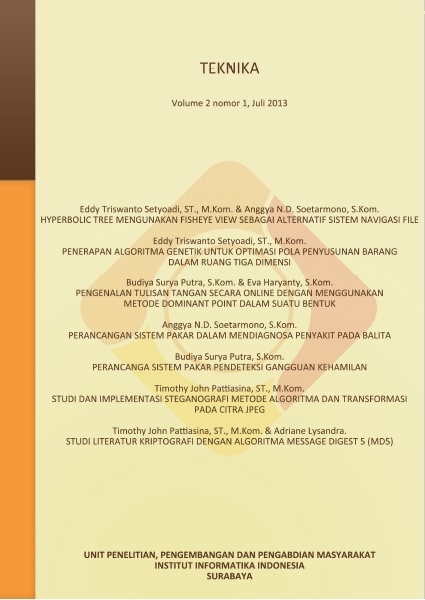 How to Cite
Setyoadi, E. T., & Soetarmono, A. N. (2013). HYPERBOLIC TREE MENGUNAKAN FISHEYE VIEW SEBAGAI ALTERNATIF SISTEM NAVIGASI FILE. Teknika, 2(1), 1-9. https://doi.org/10.34148/teknika.v2i1.8