Penerapan Profile Matching di Dalam Aplikasi Penyedia Jasa
Jonathan Christie

Program Studi Teknik Informatika, Fakultas Teknologi Informasi, Universitas Kristen Maranatha

Tiur Gantini

Program Studi Sistem Informasi, Fakultas Teknologi Informasi, Universitas Kristen Maranatha
Keywords:
Jasa, Keputusan, Penyedia Jasa, Profile Matching, Ranking
Abstract
Penelitian ini bertujuan untuk menyelesaikan masalah terhadap suatu keputusan yaitu di dalam pemilihan penyedia jasa bagi para pengguna jasa. Jasa yang disediakan adalah jasa pembuatan aplikasi (software). Metode yang digunakaan adalah metode profile matching, hal pertama yang dilakukan adalah menentukan kriteria yang akan dinilai untuk pemetaan GAP kompetensi dari setiap penyedia jasa, kemudian menentukan aspek-aspek yang akan digunakan di dalam memproses nilai penyedia jasa. Nilai penyedia jasa tersebut selanjutnya diubah berdasarkan pemetaan GAP kompetensi penyedia jasa. Terdapat dua parameter penting dalam metode ini seperti faktor inti dan faktor sekunder. Nilai-nilai ini diubah menjadi persentase sehingga menghasilkan keputusan akhir sebagai penentu data yang akan lebih dekat dengan target yang telah ditentukan. Dengan melakukan metode ini, menyortir data terhadap kriteria tertentu dapat dilakukan secara dinamis dan dikarenakan metode profile matching menggunakan sistem ranking, maka sistem dapat menampilkan penyedia jasa berdasarkan ranking tertinggi. Dengan menampilkan penyedia jasa berdasarkan ranking tertinggi, penerima jasa dapat lebih mudah untuk menemukan penyedia jasa terbaik.
Downloads
Download data is not yet available.
References
Purwanto, H. (2017). Penerapan Metode Profile Matching dalam Sistem Pendukung Keputusan Peniliaian Kinerja Karyawan pada PT. HYUNDAI MOBIL INDONESIA Cabang Kalimalang. Jurnal Techno Nusa Mandiri, Vol. XIV, No. 1, pp. 15-20.
Adhar. (2014). Sistem Pendukung Keputusan Pengangkatan Jabatan. Jatisi, Vol. 1, No. 1, pp. 16-29.
Darmawan, S. (2012). Pemilihan Beasiswa Bagi Mahasiswa STMIK WIDYA PRATAMA. Jurnal Ilmiah ICTech, Vol. X, No. 1, pp. 1-5.
Muqtadir & Purdianto, I. (2013). Sistem Pendukung Keputusan Kenaikan Jabatan Menggunakan Metode Profile Matching (Studi Kasus di PT. Industri Kemasan Semen Gresik). Seminar Nasional Aplikasi Teknologi Informasi (SNATI). Yogyakarta.
Tharo, Z. & Siahaan, A.P.U. (2016). Profile Matching in Solving Rank Problem. IOSR Journal of Electronics and Communication Engineering (IOSR-JECE), Vol. 11, No. 5, pp. 73-76.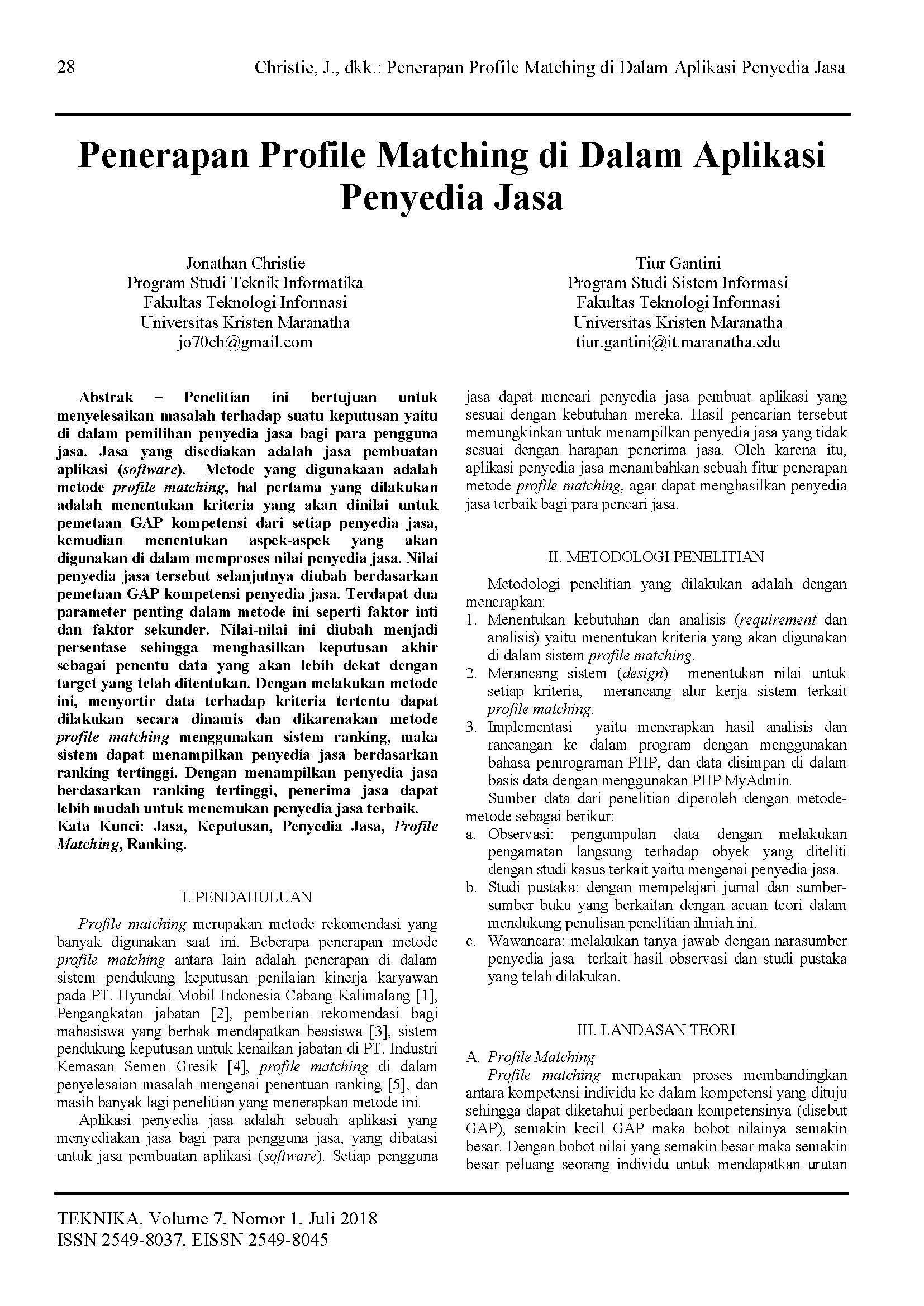 How to Cite
Christie, J., & Gantini, T. (2018). Penerapan Profile Matching di Dalam Aplikasi Penyedia Jasa. Teknika, 7(1), 28-33. https://doi.org/10.34148/teknika.v7i1.99
Copyright (c) 2018 Jonathan Christie, Tiur Gantini
This work is licensed under a Creative Commons Attribution-ShareAlike 4.0 International License.